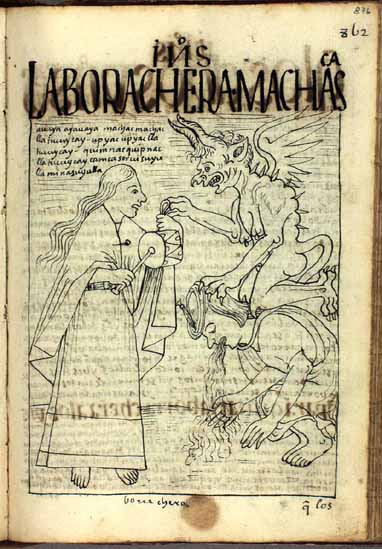 Drawing 323. Indians "speak with the devil" while practicing a traditional Andean drinking ritual.
862 [876]
LA BORACHERA, MACHASCA [emborrachado] 1
/ Auaya ayauaya! Machac, machaclla. Tucuy cay upyac, upyaclla. Tucuy cay quimnac, quipnaclla. Tucuy cay camca serui, suyulla. Mina suyulla. [Awaya, ayawaya! El borracho, es sólo un borracho, el bebedor sólo un bebedor, quien vomita, sólo vomita. Lo que le toca es servirte, diablo. Las minas son lo que le toca.] / borrachera /
IN[DI]OS
/ machasqa / Awaya, ayawaya! Machaq, machaqlla. Tukuy kay upyaq, upyaqlla. Tukuy kay qipnaq qipnaqlla. Tukuy kay qamqa serviy, suyulla. Mina suyulla. /
Véase la nota, GP, p. 292.