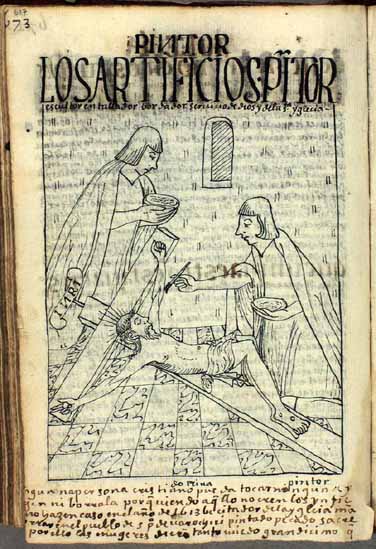 Drawing 267. Native artisans create religious images to serve God and the church.
673 [687]
PINTOR: LOS ARTIFICIOS, PINTOR, escultor, entallador, bordador, seruicio de Dios y de la Santa Yglecia
/ INRI / dotrina /
* [Ni]ngunna persona cristiano pueda tocar ninguna y[ma]gen ni borrala porque uiendo aquello no cre[e]n los ynfie[les], no hazen caso. En el año de 1613 becitador de la ygl[e]cia man[dó] [...]rrar en el pueblo de San Pedro de Uarochiri pintado pecado sacre[mento]; por ello las mugeres dieron tanto miedo grandícimo que | [688:] no quiciero[n] pecar ni fornicar con saserdote ci mandó borrar lo que dejó pintado el santo arzoobispo Mogrovejo. Este dicho becitador juntó el dicho pueblo de San Pedro, San Lorenso [... ]1 dos hijos cholos en dos yndias y comensaron a uellaquear. [...] no lo borran.2
La parroquia de la reducción de Huarochirí fue dedicada a Santa María de Jesús. San Lorenzo se refiere al pueblo de Quinti; véase Duviols, 1967 [Bib]: p. 255. Toribio de Mogrovejo fue el segundo arzobispo de Lima (1581-1606); véase p. 704.
Esta añadidura a pie de página se reparte sobre esta página y la siguiente.