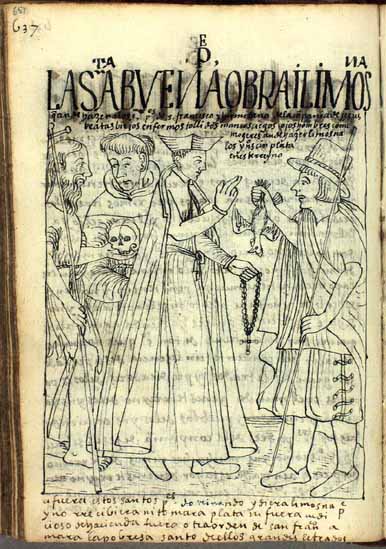 Drawing 254. Holy work of charity: hermit priests, Franciscans, and Jesuits alike must do good works and charity for the poor and infirm of this kingdom.
637 [651]
LA S[AN]TA BVENA OBRA I LIMOSNA que an de hazer a los santícimos padres de San Francisco y hirmitaño, de la Conpañía de Jesús, beatas, biejos, enfermos, tollidos, mancos, ciegos, cojos, hombres como mogeres, an de hazer limosna los yndios cin plata en este rreyno.
/ dotrina) /
P[adres]
* Ci fuera estos santos padres dotrinando y diera limosna y no rrecibiera ni tomara plata ni fuera cudicioso de hacienda, fuera otra orden de San Francisco, amará la pobresa, santo de ellos, grandes letrados.