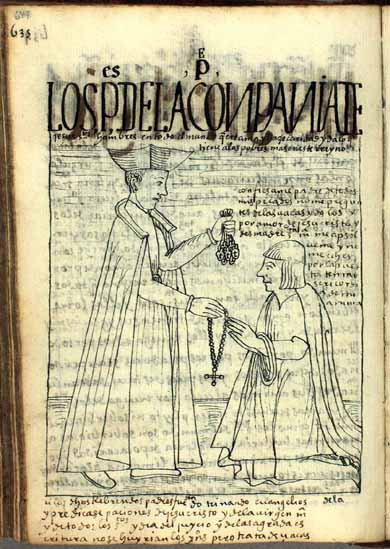 Drawing 253. Jesuit fathers, "holy men throughout the world, who give all they own to the poor of this kingdom."
635 [649]
LOS P[adres] DE LA CONPAÑÍA DE Jesús, santos hombres en todo el mundo que cre[e], ama y haze caridad y da lo que tiene a los pobres más en este rreyno1.
/ "Confiésame, padre, de todos mis pecados. No me preguntes de las uacas, ýdolos, y por amor de Jesucristo y de s[u] madre Santa María, me apsólueme y no me eches por la puerta. Ten misericordia de mi ánima." /
P[adres]
* Ci los dichos rrebrendos padres fuesen dotrinando euangelios y predicase paciones de Jesucristo y de la Uirgen María y de todos los santos y Día del Juycio y de la Sagrada Escritura, no se huyrían los yndios. Pero trata de uacas [...].
/ waqa /
Acerca de los jesuitas, véanse p. 482 y nota.