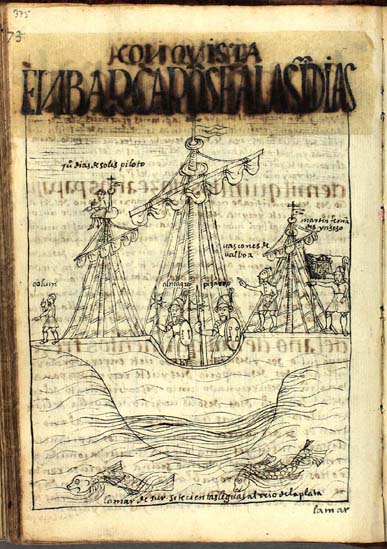 Drawing 149. The voyages of New World discovery and conquest: Christopher Columbus, Juan Díaz de Solís, Diego de Almagro, Francisco Pizarro, Vasco Núñez de Balboa, and Martín Fernández de Enciso.
373 [375]
ENBARCÁRONSE A LAS INDIAS1
/ Golum / Juan Días de Solís, piloto / Almagro / Pizarro / Uasco [Nu]ñes de Ualboa / Martín Fernandes Ynseso / la Mar de Sur, setecientas leguas al Río de la Plata /
CONQVISTA
Véase GP, p. 46 y nota.