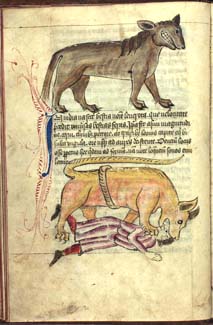 The Latin guide to animal life Bestiarius in a manuscript that is illustrated with more than 100 washed drawings, among which a mermaid.

Parchment, 77 ff.; 21 x 13,5 cm. England, 15th century.

See also GKS 3466 8º - Bestiaire.

Litt.:

Ellen Jørgensen: Catalogus codicum latinorum medii ævi Bibliothecæ Regiæ Hafniensis, Kbh. 1926, p. 445.