The Giedde Collection (named after its founder, W.H.R.R. Giedde) in the music department of the Royal Library in Copenhagen is a fairly comprehensive collection, mostly of flute music from the second half of the 18th century.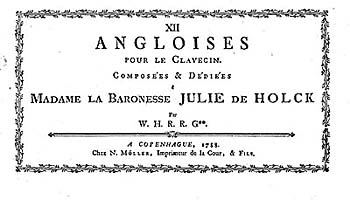 Giedde published 12 English Dances in Copenhagn in 1788.
Clik on the picture to see the full text.
Of the 1,230 items in the collection, 665 are printed. The rest are in manuscript, including the anonymous works. Most of the composers represented are German or Italian, many belonging to the Mannheim School or the Neapolitan School. Others represent the so called "gallant style". With the exception fo the works of A. Corelli and A. Scarlatti which appear to be the oldest specimens of the collection, the acquisitions have been fairly up to date, all more or less within the latter part of the 18th century. They clearly reflect the musical taste of the time, with a variety of composers from all over Europe.
The Danish publishers seem to have concentrated themselves more on the great foreign masters (Haydn, Pergolesi and Sarti) which economically must have had its obvious advantages. Among the foreign prints the Hummel editions, both Berlin and Amsterdam, are by far the most frequent. There are various Hoffmeister (Vienna) prints as well. The French prints are numerous and among these Boyer is the most prevalent name.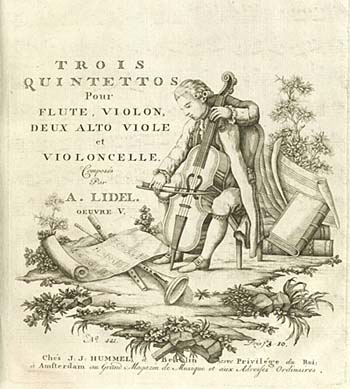 Giedde's collection includes a lot of beautiful titlepages, here three quintetts by A. Lidel for flute and strings. 
 


Search the REX-BASE for music from the Giedde collection

Further reading in the  introduction in Inge Bittmann's catalogue.