Carl Nielsen
I Maaneskin titter
As moonlight entrances
CNW 340
CNUCarl Nielsen Udgaven (The Carl Nielsen Edition. The Royal Library: Copenhagen 1998–2009) III/5, 289
Author: Adam Oehlenschläger
Carl Nielsen Edition (Editorial Texts)
Arrangement not by Nielsen:
Composition: 1913.
The song was originally composed for Sanct Hansaftenspil (CNW 13) in 1913. The arrangement with piano accompaniment was presumably used in connection with rehearsals for the work. The appearance of the manuscript may indicate that there were plans a for publication.
Allegretto
Kvirrilit, tia! kvirrilit, tia!
Tweet-tweet-tweet-cha! Tweet-tweet-tweet-cha!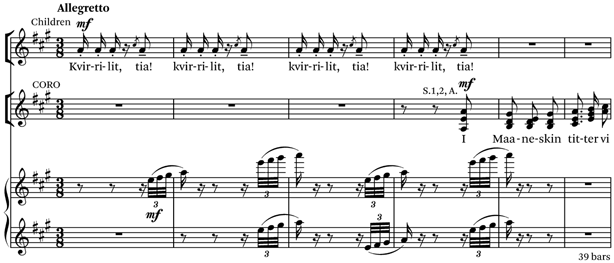 Sources

Last changed 2019-11-20 15:00 by MerMEId